We're unlike any other web service company 
Attentive, customer-oriented, efficient and professional We're not just your providers, we're your partners.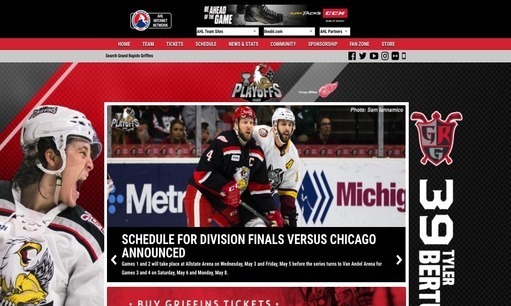 We Create Excellence
With almost 20 years of experience, we're experts at design and development. 

We Create Possibilities
Expand, enhance and evolve your organization's web presence.

We Create Ease
Personal Project Manager, 24/7 Emergency Support, video demos & more.
Infinity's Services
When you join the Infinity family, you'll be just that – family. Our goal is to provide you with all the tools you'll need to be successful. Which is why the following come to you at no extra cost.
Personal Project Manager
---
Not to fear… your Website Hero is here.
Round the clock, weekend or weekday, your Project Manager will be available to assist you with any questions/issues/ideas you have.

Client Training and Support

Full training program of the ISM as well as any additional demonstrations as needed to ensure anyone on your staff is able to learn how to update your site with ease.

No frustrating 'Customer Service' line

When we say your Project Manager is dedicated to you and your project… we mean it. Never deal with the stress of long wait times and explaining who you are each time you call.

Granted access to our Help Desk system that includes video demos, manuals, FAQs and  empowers you to:

– Get answers to your questions 24/7

– Open tickets at any time; day or night

– Faster ticket resolution time

– Direct access to developers

– Track ticket progress

– No more waiting for email responses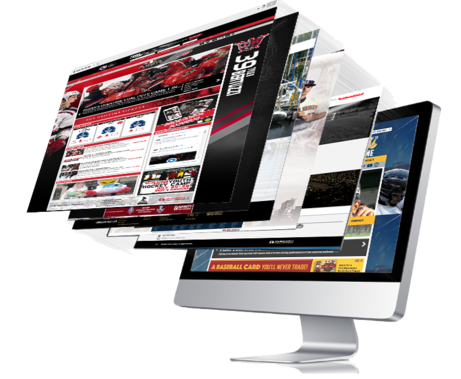 1,000+

24

HOURS A DAY WE'RE AVAILABLE TO YOU

19
Raising the Bar on Improvements
DDoS Protection
After serious research, and major due diligence, we have selected and implemented Incapsula, a cloud security service to protect our websites and your assets. Our new protection service, Incapsula specializes in DDoS mitigation. Over 650 threats to our network have defended by our new partnership, and we are thrilled about this new level of service.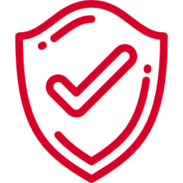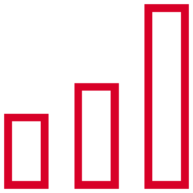 Cloud DNS Services
As we look to continue to improve load speeds and develop additional layers of protection to our websites, we have partnered with CloudFlare's Cloud-based DNS services. This move allows for quicker updates to your domain along with faster DNS load times, ranging from 10x to 50x faster than before.
CDN Caching
Through the utilization of cloud delivery of content, our website can load faster all over the world. Our cached solution loads your content from a closer location to your fans than ever before! With cached content on our CDN, websites load faster and provide a better experience for your fans.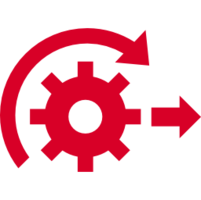 Adding Value to Our Partners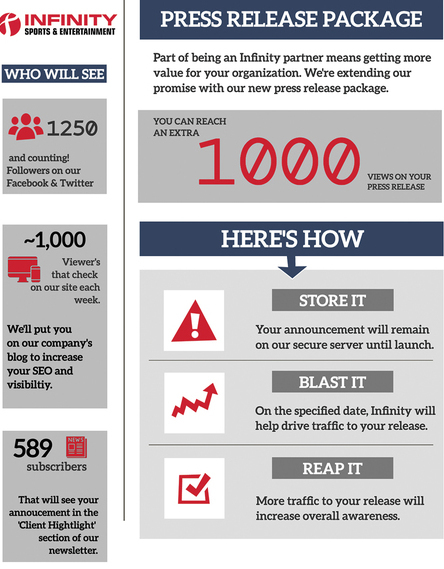 Big announcement?
We'll help make it a big deal. 
Simply add us to your distribution list and we'll add increased visibility to your release by posting on our blog and social media outlets.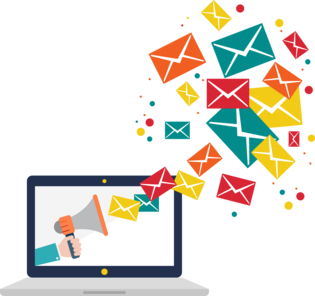 Unlimited Email Blasts
Infinity's powerful email marketing tool allows you to create emails that pull news or events straight from your web content so you can keep customers engaged, aware and interacting.
No cap on subscribers, send as many and to whomever you want
Customize emails with multimedia and design features
Create templates to reach optimal open rates
Pull content straight from your site to keep consumers up to date
Over 1,000 projects created by Infinity
Infinity has a great product, but their extremely attentive, customer-oriented staff is what really makes their product exceptional! We are thrilled with our website and the high level of customer service that we receive. In this digital age, information changes fast and we know we can rely on them to assist us with our web changes quickly, efficiently and professionally. We love working with Infinity and would absolutely recommend them to anyone looking for a website provider.
What else does Infinity create?
Request a Quote
Since no two organizations are the same, we want to work with you to build a design and hosting package that fits your needs and your budget.